Ewing Sarcoma Pipeline Insight, 2020
(ALBANY, US) DELVEINSIGHT HAS LAUNCHED A NEW REPORT ON Ewing Sarcoma Pipeline
Ewing Sarcoma Pipeline Insight, 2020 report by DelveInsight outlays comprehensive insights of present clinical development scenario and growth prospects across the Ewing Sarcoma market. A detailed picture of the Ewing Sarcoma pipeline landscape is provided, which includes the disease overview and Ewing Sarcoma treatment guidelines. The assessment part of the report embraces in-depth Ewing Sarcoma commercial assessment and clinical assessment of the Ewing Sarcoma pipeline products from the pre-clinical developmental phase to the marketed phase. In the report, a detailed description of the drug is proffered including mechanism of action of the drug, clinical studies, NDA approvals (if any), and product development activities comprising the technology, Ewing Sarcoma collaborations, licensing, mergers and acquisition, funding, designations, and other product-related details.
Ewing Sarcoma is a highly aggressive, malignant bone tumor or soft-tissue tumor occurring predominantly in the bones of pelvis, femur, tibia and ribs or in the soft tissues of thoracic wall, gluteal muscle, pleural cavities and cervical muscles. It mainly affects children, adolescents and young adults, with common signs and symptoms of pain and swelling. The WHO classification of sarcomas (2013) uniformly defined 'Ewing sarcoma' by characterized pathognomonic FET–ETS gene fusions.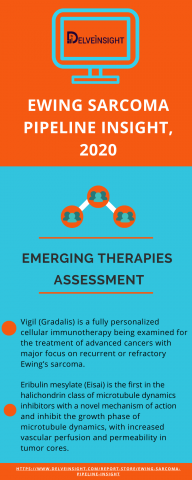 Request for Free Sample Page:- https://www.delveinsight.com/sample-request/ewing-sarcoma-pipeline-insight
Ewing Sarcoma Pipeline Development Activities
All of the companies that are developing therapies for the treatment of Ewing Sarcoma with aggregate therapies developed by each company for the same.
Different therapeutic candidates segmented into early-stage, mid-stage and late stage of development for the Ewing Sarcoma treatment.
Ewing Sarcoma key players involved in targeted therapeutics development with respective active and inactive (dormant or discontinued) projects.
Drugs under development based on the stage of development, route of administration, target receptor, monotherapy or combination therapy, a different mechanism of action, and molecular type.
Detailed analysis of collaborations (company-company collaborations and company-academia collaborations), licensing agreement and financing details for future advancement of Ewing Sarcoma market.
The report is built using data and information traced from the researcher's proprietary databases, company/university websites, clinical trial registries, conferences, SEC filings, investor presentations, and featured press releases from company/university web sites and industry-specific third-party sources, etc.
Emerging Therapy Assessment
The dynamics of Ewing Sarcoma market is expected to change due to the improvement in the diagnosis, incremental healthcare
expenditure across the world and expected launch of emerging therapies during the forecast period of 2019─2030. Companies all over the globe are persistently working towards the development of new treatment therapies and some of the key players at the global level are Tyme, Gradalis, Oncurious, Eisai, and others.
Vigil (Gradalis) is a fully personalized cellular immunotherapy being examined for the treatment of advanced cancers with major focus on recurrent or refractory Ewing's sarcoma. Vigil combines genetic engineering with immuno-oncology to stimulate an immune response against cancer cells. The cells from the tumor are genetically modified in two ways. First, the cells are modified to inhibit the production of furin protein that makes it difficult for the immune system to detect cancer cells. Second, cells are modified to produce granulocyte macrophage colony-stimulating factor (GM-CSF). It is currently under phase III trial and the estimated completion date of this study is July 2022.
Eribulin mesylate (Eisai) is the first in the halichondrin class of microtubule dynamics inhibitors with a novel mechanism of action and inhibit the growth phase of microtubule dynamics, with increased vascular perfusion and permeability in tumor cores. Eribulin was approved in November 2010 in the United States as a treatment and is currently under phase II trial for Ewing Sarcoma.
SM-88 (Tyme) is a novel, oral, investigational agent evaluated as maintenance therapy in combination with methoxsalen, phenytoin. SM-88 is an exclusive dysfunctional tyrosine derivative and is the backbone of SM-88 used with MPS. It is designed to be absorbed by the cancer cell as if it were a functional tyrosine, but after uptake it terrupts the processes of protein synthesis, with key targeting of mucin 1. it is currently under phase II trial for Ewing Sarcoma and the estimated completion date of this study is May 2022.
TB-403 (Oncurious) is a humanized monoclonal antibody against placental growth factor (PlGF) which is stated in several types of cancer. High expression of the PlGF receptor neuropilin 1 has been shown to relate to poor overall survival. Based on pre-clinical studies, the antibody potentiality expanded in other pediatric cancer, including Ewing Sarcoma, under phase I/II trial.
Emerging drugs included in the report
Vigil EWS (Gradalis Co.)
Eribulin Mesylate (Eisai Co.)
Seclidemstat (Salarius Pharmaceuticals)
Table of content
1. Ewing Sarcoma Report Introduction
2. Ewing Sarcoma Key Insights
3. Ewing Sarcoma Current Treatment Patterns
4. Ewing Sarcoma – DelveInsight's Analytical Perspective
5. Therapeutic Assessment
6. Ewing Sarcoma Late Stage Products (Phase-III)
7. Ewing Sarcoma Mid Stage Products (Phase-II)
8. Early Stage Products (Phase-I)
9. Pre-clinical Products and Discovery Stage Products
10. Inactive Products
11. Dormant Products
12. Ewing Sarcoma Discontinued Products
13. Ewing Sarcoma Product Profiles
14. Ewing Sarcoma Key Companies
15. Ewing Sarcoma Key Products
16. Dormant and Discontinued Products
17. Ewing Sarcoma Unmet Needs
18. Ewing Sarcoma Future Perspectives
19. Ewing Sarcoma Analyst Review
20. Appendix
21. Report Methodology
Related Reports
Media Contact
Company Name: DelveInsight Business Research LLP
Contact Person: Yash Bhardwaj
Email: Send Email
Phone: +919650213330
Address:304 S. Jones Blvd #2432
City: Las Vegas
State: NV
Country: United States
Website: https://www.delveinsight.com/