Medici Enterprise Events debut Concert will be featuring Notemarcato, Rajeev A.K.A Hotboyprimo, Mochoppo, Yaya Chronicles, and more on Feb 7th FRIDAY NIGHT at PARS MIAMI
Tickets are available at the end of this article, at a discounted rate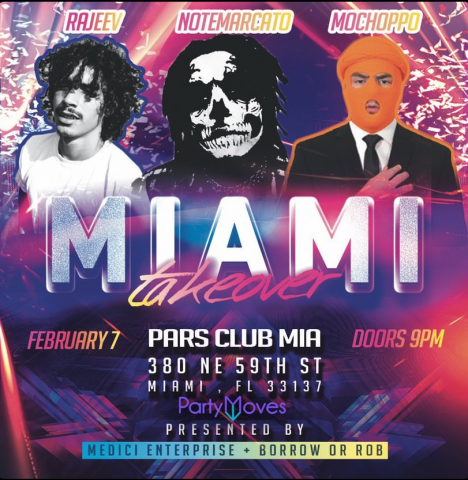 This Friday Night, Feb 7th, Medici Enterprise Events & Party Moves will be hosting one of the best Events Miami has ever seen.
Dre Medici CEO of Medici Enterprise Events, believes this is going to be one of the best Hip Hop Artist Performances the city of Miami has ever witnessed. Yes, including all the greats and legends that have performed in Miami. Medici strongly believes this show will leave the city of Miami in shock. Notemarcato, MoChoppo, and Rajeev are three of the most known & talented artist in Miami and have been merging into some of the best artist in the world.
Headliner Notemarcato, son of Big Time Legendary Producer Swizz Beatz (@therealswizzz) will be performing his set at 11:45PM on Friday night! He believes this moment will go down in history for years. His first official show in Miami where he will be performing his songs from his upcoming album Beachbumlimbo!Notemarcato was recently seen at the Grammys in his face mask he refers to as Cardinal, which Medici says he's been using for his performances since one of his first events in 2015, for his 15th Birthday! Notemarcato is currently signed to Epic Records one of the biggest Labels in the world & will be releasing his upcoming album very soon! He is officially in World Domination Mode, Notemarcato takeover begins FRIDAY NIGHT! Come witness greatness. PARS MIA @ 11:45PM
Recently announced, Yaya Chronicles – Notemarcato's younger brother and also son of Swizz Beatz will be opening up the show with two of his most seen unreleased songs "Rock" & "Cap a lot". Yaya, who is only 13 years old, left the Instagram world in shock after posting behind the scene videos of his unbelievable unreleased singles; and he announces he CAN'T wait for MIAMI to hear them live! Yaya Chronicles (@yayachronicles) has recently been seen working on projects with some of the biggest artist in the game: Lil Uzi Vert, A Boogie wit da Hoodie, Pop Smoke, and more! If you're in Miami, you don't want to miss Yaya Chronicles set this Friday at 9:45PM!
It gets better… Rajeev A.K.A Hotboyprimo will also be headlining! Rajeev recently put on one of the best performances Miami has ever seen, on September 25th, when he opened up for two very hot artist Lil Keed & Lil Got It. Rajeev is one of the most known Rap Artist in Miami and he's ready to remind the city why. If you want to "RAGE" be at his set! He goes LIVE at 10:15PM and is the first Headliner to go on!
Lastly, MoChoppo one of Miami's favorites will also be Headlining at FRIDAY NIGHTS show @ PARS MIAMI. MoChoppo is one of the most underrated Artist in the world & soon you will hear his name everywhere. He recently released an unbelievable 3 Song Care Package on All Platforms named "Under Pressure" that has brought tons of attention to his name. He has one of the most pure talented voices in the industry and he continues to leave the world in shock as he post his new unreleased songs on social media. MoChoppo will be going LIVE @ 11PM and will be performing some of the best songs you've ever heard, a few will be featuring the one and the only Notemarcato as well! Be there for his performance, believe me. You don't want to miss it.
Miami, if you enjoy live music, partying, having fun, and having life changing memories with your friends… BE THERE FRIDAY NIGHT @ PARS MIA.
"MIAMI TAKEOVER" Hosted By Medici Enterprise
NOTEMARCATO X MOCHOPPO X RAJEEV
Special Guest: Yaya Chronicles & more
Tickets to the show here:
https://www.eventbrite.com/e/miami-takeover-feb-7th-mochoppo-x-notemarcato-x-rajeev-tickets-90495104293
(USE CODE: LETSGO for $5 off)
Media Contact
Company Name: G Media
Contact Person: Press Executive
Email: Send Email
Country: United States
Website: www.facebook.com/gmediasolutions