Vetflix Announces Revolutionary 10-in-1 Multivitamin for Pets

Vetflix, a leading supplier of healthcare products for pets, has announced the release of their revolutionary 10-in-1 multivitamin for domesticated animals. This advanced concoction is designed to provide domestic animals with all the essential ingredients necessary to achieve optimal health and vigor.
The 10-in-1 multivitamin from Vetflix is a result of prolonged years of scientific study and advancement, and represents a major breakthrough in domestic animal nutrition. This all-inclusive composition encompasses indispensable vitamins, minerals, and antioxidants, along with glucosamine, chondroitin, and MSM for bolstering the joints. Furthermore, it encompasses probiotics and digestive enzymes to back healthy digestion and immune system functioning.
"As an organization, Vetflix is fully devoted to providing first-rate items to augment the lives of our customers' pets. We recognize that domesticated animals are much more than mere creatures – they are cherished family members. That's why we contrived our 10-in-1 multivitamin to furnish all-encompassing nourishment for domestic animals of every size and age." declared a representative for the corporation.
Key Benefits of Vetflix's 10-in-1 Multivitamin:
– Comprehensive formula: Provides all essential nutrients for optimal pet health.- Joint support: Includes glucosamine, chondroitin, and MSM for healthy joints.
– Digestive support: Contains probiotics and digestive enzymes to support healthy digestion and immune function.
– Suitable for all ages and sizes: Designed for pets of all ages and sizes
Vetflix's 10-in-1 multivitamin is available for purchase on Amazon.com, and providing a two-month supply for pets. To access the instructions, please click on the following link.
About Vetflix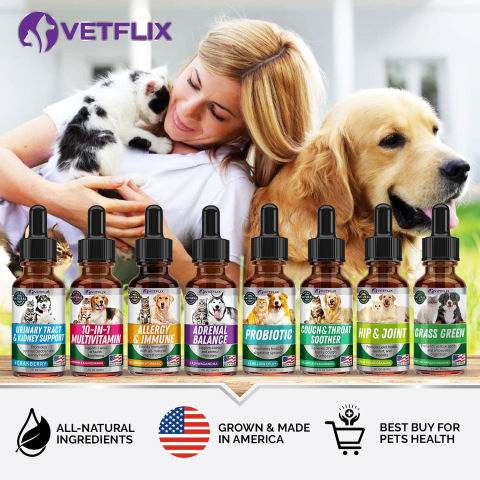 Vetflix stands at the forefront of the pet healthcare product industry, unwavering in its commitment to enhance the wellbeing of pets and their respective owners. The corporation offers a vast assortment of goods, spanning from supplementary items, grooming paraphernalia, to accessories – all of which are composed with the finest-quality constituents, fashioned to cater to the distinct necessities of domesticated animals.
To learn more about Vetflix's 10-in-1 multivitamin or other pet healthcare products, kindly visit the website vetflix-pet.com.
Media Contact
Company Name: Vetflix Inc.
Contact Person: Vitali Myshko
Email: Send Email
City: Bristol
State: Rhode Island
Country: United States
Website: vetflix-pet.com