Obesity Pipeline Drugs and Companies Insight Report, 2023 Updates: Analysis of Clinical Trials, Therapies, Mechanism of Action, Route of Administration, and Developments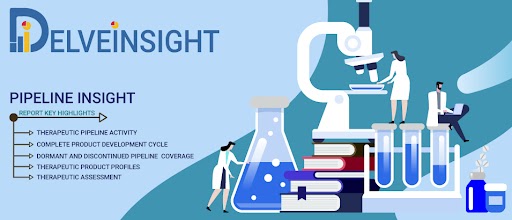 Las Vega (Nevada), United States //— As per DelveInsight's assessment, globally, Obesity pipeline constitutes key companies continuously working towards developing Obesity treatment therapies, analysis of Clinical Trials, Therapies, Mechanism of Action, Route of Administration, and Developments analyzes DelveInsight.
Obesity Overview
Obesity is recognized as a chronic or non-communicable disease, a complex, multifactorial phenotype, affecting, along with overweight, primarily associated with excess adiposity or body fatness which can manifest metabolically and not just concerning the size of the body.
"Obesity Pipeline Insight, 2023" report by DelveInsight outlines comprehensive insights into the present clinical development scenario and growth prospects across the Obesity Market.
The Obesity Pipeline report embraces in-depth commercial and clinical assessment of the pipeline products from the pre-clinical developmental phase to the marketed phase. The report also covers a detailed description of the drug, including the mechanism of action of the drug, clinical studies, NDA approvals (if any), and product development activities comprising the technology, collaborations, mergers acquisition, funding, designations, and other product-related details.
Some of the key takeaways from the Obesity Pipeline Report:
Companies across the globe are diligently working toward developing novel Obesity treatment therapies with a considerable amount of success over the years. Obesity Key players such as – D&D Pharmatech, Caliway Biopharmaceutics, Nano Precision Medical, Bukwang Pharmaceutical, Yuhan, Tonix Pharmaceuticals, BioRestorative Therapies, SCOHIA PHARMA, Click Therapeutics, Hanmi Pharmaceuticals, Novo Nordisk, Sciwind Biosciences, Empros Pharma, Carmot Therapeutics, Eli Lilly and Company, Oral Novo Nordisk, and others, are developing therapies for the Obesity treatment
Obesity Emerging therapies such as – DD03, CBW-520, NPM 139, BK-1701, YH34160, TNX-2900, Thermostem, SCO-267, CT-181, HM15136, NNC0480-0389, XW003, EMP-16, CT-868, Tirzepatide, Semaglutide, and others are expected to have a significant impact on the Obesity market in the coming years.
In February 2022, Carmot Therapeutics initiated a randomized, double-blind, placebo-controlled, parallel-group,multiple-center study to evaluate the efficacy, safety, and tolerability of CT-868 administered for 26 weeks to overweight and obese participants with Type 2 diabetes mellitus
In October 2022, Eli Lilly and Company announced that the US Food and Drug Administration (FDA) has granted FastTrack Designation (FTD) for the investigation of tirzepatide for the treatment of adults with obesity or overweight with weight-related comorbidities
In April 2021, Eli Lilly and Company initiated a randomized, double-blind, placebo-controlled, Phase III study comparing the efficacy and safety of Tirzepatide vs. placebo in patients with heart failure with preserved ejection fraction and obesity (SUMMIT)
In May 2021, Carmot Therapeutics US FDA cleared an IND application for CT-868, Carmot's dual GLP-1, and GIP receptor modulator
In May 2021, Eli Lilly and Company initiated a randomized, double-blind, placebo-controlled trial to assess the efficacy and safety of once-weekly Tirzepatide in participants with obesity disease. The trial is currently active with 261 participants and is anticipated to be complete by June 2023
Route of Administration
Obesity pipeline report provides the therapeutic assessment of the pipeline drugs by the Route of Administration. Products have been categorized under various ROAs, such as
Oral
Parenteral
Intravenous
Subcutaneous
Topical
Molecule Type
Products have been categorized under various Molecule types, such as
Monoclonal Antibody
Peptides
Polymer
Small molecule
Gene therapy
Obesity Pipeline Therapeutics Assessment
Obesity Assessment by Product Type
Obesity By Stage and Product Type
Obesity Assessment by Route of Administration
Obesity By Stage and Route of Administration
Obesity Assessment by Molecule Type
Obesity by Stage and Molecule Type
DelveInsight's Obesity Report covers around products under different phases of clinical development like
Late-stage products (Phase III)
Mid-stage products (Phase II)
Early-stage product (Phase I)
Pre-clinical and Discovery stage candidates
Discontinued & Inactive candidates
Route of Administration
Some of the key companies in the Obesity Therapeutics Market include:
Key companies developing therapies for Obesity are – ERX Pharmaceuticals, Amgen, Allysta Pharmaceuticals, Empros Pharma, Innovent Biologics, Pfizer, Boehringer Ingelheim, MedImmune LLC, Scohia Pharma, Eli Lilly and Company, and others.
Emerging Obesity Drugs Under Different Phases of Clinical Development Include:
DD03: D&D Pharmatech
Semaglutide oral: Novo Nordisk
CBW-520 Caliway Biopharmaceutics
NPM 139 Nano Precision Medical
Tirzepatide: Eli Lilly and Company
BK-1701 Bukwang Pharmaceutical
YH34160 Yuhan
Tesomet: Saniona
TNX-2900 Tonix Pharmaceuticals
RZL-012: Raziel Therapeutics
Thermostem BioRestorative Therapies
DD01: D&D Pharmatech
CT-868: Carmot Therapeutics
SCO-267 SCOHIA PHARMA
EMP16: Empros Pharma
CT-181 Click Therapeutics
ZP 8396: Zealand Pharma
HM15136 Hanmi Pharmaceuticals
NNC0480-0389 Novo Nordisk
ERX-1000: ERX Pharmaceuticals
XW003 Sciwind Biosciences
EMP-16 Empros Pharma
CT-868 Carmot Therapeutics
Tirzepatide Eli Lilly and Company
Semaglutide Oral Novo Nordisk
Get a Free Sample PDF Report to know more about Obesity Pipeline Therapeutic Assessment- https://www.delveinsight.com/sample-request/obesity-pipeline-insight
Obesity Pipeline Analysis:
The Obesity pipeline report provides insights into
The report provides detailed insights about companies that are developing therapies for the treatment of Obesity with aggregate therapies developed by each company for the same.
It accesses the Different therapeutic candidates segmented into early-stage, mid-stage, and late-stage of development for Obesity Treatment.
Obesity key companies are involved in targeted therapeutics development with respective active and inactive (dormant or discontinued) projects.
Obesity Drugs under development based on the stage of development, route of administration, target receptor, monotherapy or combination therapy, a different mechanism of action, and molecular type.
Detailed analysis of collaborations (company-company collaborations and company-academia collaborations), licensing agreement and financing details for future advancement of the Obesity market.
The report is built using data and information traced from the researcher's proprietary databases, company/university websites, clinical trial registries, conferences, SEC filings, investor presentations, and featured press releases from company/university websites and industry-specific third-party sources, etc.
Further Obesity product details are provided in the report. Download the Obesity pipeline report to learn more about the emerging Obesity therapies
Obesity Pipeline Market Drivers
Rise in prevalence of Obesity
Growing Research and Development Activities to develop novel therapies to treat obesity
Changing lifestyle patterns
Obesity Pipeline Market Barriers
Challenges associated with the discovery of anti-obesity drugs
Economic burden associated with obesity
Scope of Obesity Pipeline Drug Insight
Coverage: Global
Key Obesity Companies: , and others
Key Obesity Therapies: DD03, CBW-520, NPM 139, BK-1701, YH34160, TNX-2900, Thermostem, SCO-267, CT-181, HM15136, NNC0480-0389, XW003, EMP-16, CT-868, Tirzepatide, Semaglutide, and others
Obesity Therapeutic Assessment: Obesity current marketed and Obesity emerging therapies
Obesity Market Dynamics: Obesity market drivers and Obesity market barriers
Request for Sample PDF Report for Obesity Pipeline Assessment and clinical trials
Table of Contents
| | |
| --- | --- |
| 1 | Obesity Report Introduction |
| 2 | Obesity Executive Summary |
| 3 | Obesity Overview |
| 4 | Obesity- Analytical Perspective In-depth Commercial Assessment |
| 5 | Obesity Pipeline Therapeutics |
| 6 | Obesity Late Stage Products (Phase II/III) |
| 7 | Obesity Mid Stage Products (Phase II) |
| 8 | Obesity Early Stage Products (Phase I) |
| 9 | Obesity Preclinical Stage Products |
| 10 | Obesity Therapeutics Assessment |
| 11 | Obesity Inactive Products |
| 12 | Company-University Collaborations (Licensing/Partnering) Analysis |
| 13 | Obesity Key Companies |
| 14 | Obesity Key Products |
| 15 | Obesity Unmet Needs |
| 16 | Obesity Market Drivers and Barriers |
| 17 | Obesity Future Perspectives and Conclusion |
| 18 | Obesity Analyst Views |
| 19 | Appendix |
| 20 | About DelveInsight |
*The Table of Contents (TOC) is not exhaustive; the final content may vary. Refer to the sample report for the complete table of contents.
Download Sample PDF Report to know more about Obesity drugs and therapies
Media Contact
Company Name: DelveInsight Business Research
Contact Person: Gaurav Bora
Email: Send Email
Phone: 9193216187
Address:304 S. Jones Blvd #2432
City: Las Vegas
State: Nevada
Country: United States
Website: https://www.delveinsight.com/consulting