"One Meter fifty" written by Isaac Bullock and Marlice Baart Wins Best Social Causes Song of 2020 at the International Songwriting Competition
Haarlem, Netherlands – May 10, 2021 – Emerging music group Kyakuwa Music has been awarded the Best Social Causes Song of 2020 in the International Songwriting Competition for their top song, "One Meter Fifty." This song, which was chosen from over 26,000 submissions worldwide, is written by Isaac Bullock and Marlice Baart and produced by DJ NLZ. The announcement of the winner of the category was made on Monday, May 3, 2021, on the International Songwriting Competition website.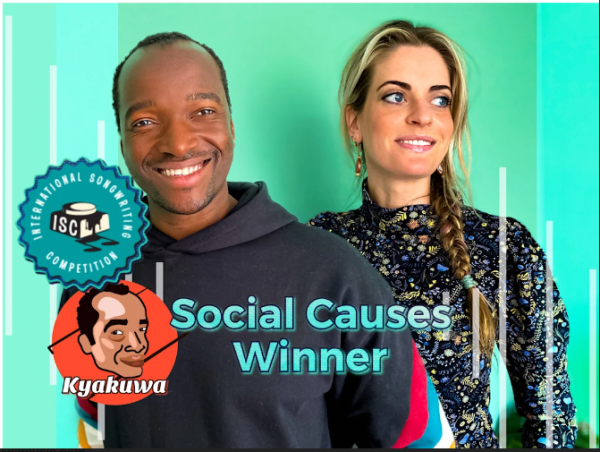 Dua Lipa, Coldplay, and Tom Waits were among the jury of the 2020 International Songwriting Competition. Achieving this award is just the beginning for Kyakuwa. The group aims to fulfill its purpose of "inspiring colleagues in the entertainment industry to embrace and leverage the open online platform and inspire music lovers and people at large to find the silver lining through music."
In bad times, the way forward is reinvention. What happens when two musicians can no longer do live shows? they played at the biggest festivals and concert halls and then, like so many others, they were captivated by the sound of silence. To avoid becoming victims to the pandemic, they reinvented themselves: Kyakuwa was born
One Meter Fifty is a song about how the pandemic affected everyone worldwide. It is a call to unite, to stand strong together in the face of a collective setback, to look for opportunities and it is a call for hope. When everyone join forces, it will be easier to look into Pandora's box with courage.
For further information about Kyakuma Music, please, visit their website at kyakuwamusic.com
Media Contact
Company Name: Kyakuwa
Contact Person: Isaac Bullock Kintu
Email: Send Email
Country: Netherlands
Website: http://www.kyakuwamusic.com/