Head Mounted Display Market Has Witnessed Significant Growth Over The Past Few Years Due To Increasing Proliferation Of The Technology In Various Critical End-Use Sectors | Grand View Research Inc.
The head mounted display market has witnessed substantial growth over the past few years, with a study by Grand View Research stating that increased proliferation of the technology in various critical end-use sectors such as healthcare and manufacturing has heavily aided in the positive development of the industry.
The global head mounted display market size is projected to reach USD 11,793.3 million by the year 2020, as per a study by Grand View Research, Inc. A head mounted display, or HMD, is a display device consisting of a small display optic, either in front of one or both the eyes. The continued adoption of technology and innovation in major industries such as gaming and entertainment, military and defense, simulation, sports, and healthcare, among others, has led to a widespread acceptance and adoption of these devices. Furthermore, there has been a sharp drop in silicon wafer costs globally, which has had a direct impact on micro-display prices, which account for a sizable percentage of the resultant HMD cost. Moreover, the growing demand for wearable, lightweight devices among a sizable global population is expected to be a key driving force for the HMD market.
Defense services are a key contributor to global demand, wherein head-mounted displays aid in security, imaging, and tracking. With the continued heavy investments by governments into their respective national defense infrastructure, there is a huge scope for sustained growth in the manufacturing and demand of innovative equipment, such as HMDs. The residential and consumer sector also has shown high affinity for such products, mainly for gaming and entertainment purposes, which has driven the market growth. Head-mounted displays offer a high degree of mobility and computing power, as well as a highly immersive and enriching experience. The arrival of virtual reality (VR) and augmented reality (AR) in the consumer space has also heightened expectations of innovation from HMD manufacturers. Additionally, the rising demand from the automotive prototyping space is expected to offer a key growth opportunity for industry participants. Training and simulation is another major industry growth driver, as the technology is safe and feasible for trainees for facing scenarios that can be risky in real-life, such as driving and aviation.
The global head mounted display market is broadly segmented on the basis of product, end-use, and application. With regards to product, the market is classified into helmet mounted display and wearable glass; the major end-use segments include defense and consumer, with consumer end-use comprising AR, VR, and gaming. The notable application areas of HMD include imaging, security, tracking, and training and simulation. Some of the notable organizations to have invested and introduced novel products and services in the head mounted display industry include BAE Systems, Google Inc., Imagine Corporation, Seiko, Rockwell Collins, Epson, Vuzix, and Sony Corporation, eMagin Corporation. These companies have indulged in innovative product launches, mergers and acquisitions, as well as collaborations with major industry experts, as their major strategies to expand geographical reach.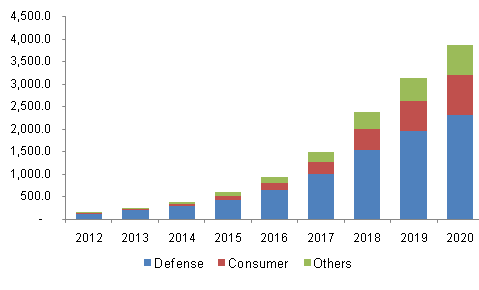 Head Mounted Display Market Report Highlights
1 The healthcare sector has been steadily witnessing the proliferation of smart glasses and head mounted displays, as they offer clinical usefulness, improve collaborative efforts among institutions, and offer HIPAA compliant technology solutions
2 Helmet mounted displays accounted for over 60% of the market in 2013, owing to widespread use in the defense segment; however, these products are expected to lose market share due to the growing popularity of wearable glass
3 The defense segment accounted for over 70% of the HMD market in 2013 and is expected to remain the dominant end-use segment over the forecast period. These devices have proved to be highly efficient during training regimes and in locations with poor visibility.
4 The increasing popularity of augmented and virtual reality is expected to drive the consumer segment in the near future, as widespread availability of gaming consoles and accessories, coupled with increased disposable income, acting as the major demand drivers
5 The training and simulation segment is expected to account for a substantial share in the overall market through 2020, on account of the growing use of HMDs in medical as well as military training modules.
6 North America accounted for more than 35% of the global HMD market in 2013; on the other hand, the Asia Pacific region is expected to exhibit high growth over the coming years
7 The establishment of manufacturing facilities along with technology advancement due to the presence of Japan, South Korea, and China is expected to fuel regional market growth. Furthermore, the region is steadily emerging as a gaming hub, which is expected to offer numerous growth opportunities to market players
8 In December 2020, eMagin Corporation announced the signing of a 10-year lease regarding the expansion of their footprint to around 63,000 square feet, as part of their aim to improve their capability for offering high resolution, high brightness OLED microdisplays
9 In February 2021, Vuzix announced the completion of the first development phase of a customized head mounted waveguide-based display system for assisted medical cancer surgery, in partnership with a US-based medical institute
"Would you Like/Try a Sample Report" Click the link below:https://www.grandviewresearch.com/industry-analysis/head-mounted-display-hmd-market/request/rs1
Head Mounted Display Market Segmentation
Grand View Research has segmented the global head mounted display market on the basis of product, end-use, application, and region:
HMD Product Outlook (Revenue, USD Million, 2012 – 2020)
· Helmet Mounted Display
· Wearable Glass
HMD End-Use Outlook (Revenue, USD Million, 2012 – 2020)
· Defense
· Consumer
o Augmented Reality
o Virtual Reality
o Video Gaming
· Others
HMD Application Outlook (Revenue, USD Million, 2012 – 2020)
· Imaging
· Security
· Tracking
· Training & Simulation
HMD Regional Outlook (Revenue, USD Million, 2012 – 2020)
· North America
· Europe
· Asia Pacific
· RoW
List of Key Players of Head Mounted Display Market
• BAE Systems
• Google Inc.
• Imagine Corporation
• Seiko
• Rockwell Collins
• Epson
• Vuzix
• Sony Corporation.
Have Any Query? Ask Our Experts for More Details on Report:https://www.grandviewresearch.com/inquiry/689/ibb
Browse Related Report @
Flexible Display Market – https://www.grandviewresearch.com/industry-analysis/flexible-display-market
Explore the BI enabled intuitive market research database, Navigate with Grand View Compass, by Grand View Research, Inc.
About Grand View Research
Grand View Research is a market research and consulting company based in the State of California with headquarters in San Francisco. The company offers consulting services tailored for business organizations to assist them with understanding and exploring their potential on a large scale. At the same time, Grand View Research caters to the individual research needs to provide a customized research service.
Grand View Research is fully committed to offer the best research services in the Industry. Our dedicated team of experienced analysts offer full capability and potential to precisely understand your research needs.
Media Contact
Company Name: Grand View Research, Inc.
Contact Person: Sherry James, Corporate Sales Specialist – U.S.A.
Email: Send Email
Phone: 1888202951
Address:Grand View Research, Inc. 201 Spear Street 1100 San Francisco, CA 94105, United States
City: San Francisco
State: California
Country: United States
Website: https://www.grandviewresearch.com/industry-analysis/head-mounted-display-hmd-market